callsign lookup
Accepts QSL via:
LoTW: YES
e-qsl: NO
mail QSL:YES

lookups: 68124
---
E31A Now QRV!
Zorro JH1AJT and his team are in Asmara/State of Eritrea, and will be till May29, 2017.
Team : JH1AJT Zorro, DJ9ZB Franz, E21EIC Champ, RA9USU Dima
Operation : 160m - 10m CW, SSB, RTTY
QSL : JH1AJT
Zorro Y. MIYAZAWA
P.O. Box 8 Oiso
Nakakanagawa 259-0111
Japan
OQRS will be available at ClubLog after his return to Japan.
Zorro JH1AJT
Franz DJ9ZB
Champ E21EIC
Dima RA9USU
Zorros operation is a part of his humanitarian activities to support Eritrea and people there as explained below.
It will be highly appreciated if you would assist him with your goodwill:
Paypal Account :
paypal@fgc.or.jp
The E3 is well known as one of the most rare countries.
The entity still remains not open to Hams and DXers of the world.
Zorros operation is regarded as an exception.
His permission is officially granted by the authorities of the Eritrean Government in charge, but it is not given to the person simply working for the amateur radio only.
Looking at the background more closely, we see that Zorro has implemented lots of humanitarian aids purely for the sake of the country and its residents which have nothing to do with the amateur radio and that they are highly evaluated and appreciated by the authorities.
Here are the latest news on Zorro's support / exchange activities during his visit to Eritrea in this May;
Dako-on, a traditional Japanese Drum Team in Asmara/Eritrea
Supported by FGC/SEISA Group, a traditional Japanese Drum Team, Dako-on having enjoyed a number of praises, is now on the way to Eritrea located in the horn of Africa. The delegation consisting of eight players and one official, is headed by Zorro and is invited by the Eritrean Government to the 26th Independence Day (Wednesday, May 24). They are scheduled to show performances at its official events. In addition, they also plan to hold some fraternal events with children and residents. We are confident this will be a good opportunity to make Japan more familiar to the people of Eritrea and also to further strengthen the tie between both countries.
Asmara - fascinated by Dako-on !!
On the evening of May 19 (Friday), the 1st concert of Dako-on has been held at Cinema Asmara, a historical opera house of Eritrea. In his opening speech, the Commissioner for Culture and Sports, Ambassador Zemede Tekle, has addressed his special appreciation to Zorro, referring to the contribution made by FGC and SEISA Group. The concert has been attended by most of the cabinet members of the Eritrean Government, including Vice President, Minister for Foreign Affairs and Minister for Finance. In the beginning there has been incongruous atmosphere among the audience. In the course of time, however, the entire audience has been attracted and fascinated by Dako-ons performance, which has finally led to the standing ovation of the entire hall. It has clearly been the moment that FGC/SEISA and Japan have been well accepted in Eritrea, too !!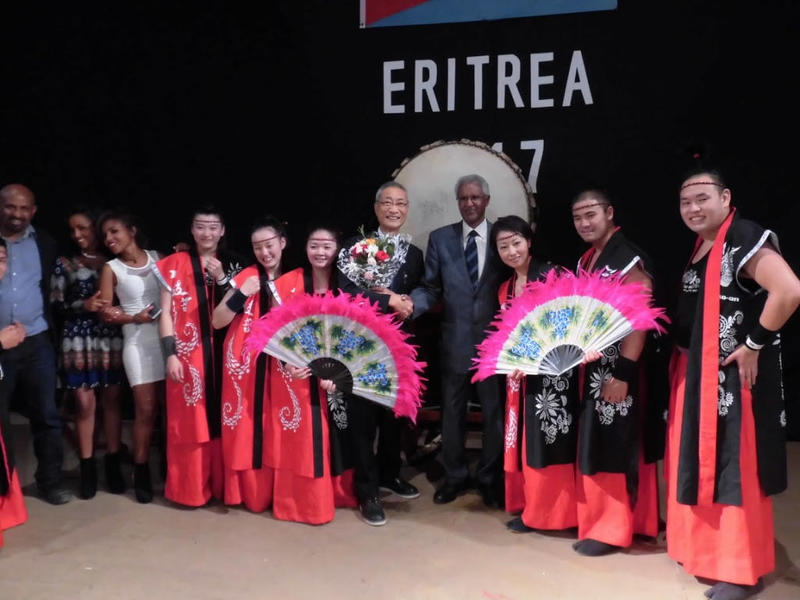 Dako-on playing for disabled veterans and their families:
In Asmara there is Denden Camp where ex-solders who got injured during the independence war and their families live. Under the initiative of Zorro, Dako-on Team has visited the place on the afternoon of Saturday, May 20, and has shown their performances there. The Minister for Labor and Human Welfare has also attended and enjoyed their Japanese drum play. Especially children have been fascinated and very happy with the performances. The drum team has also invited the children to play the drums by themselves. In the beginning, it has been a chaos, but after some friendly and repeated instructions, they have gotten used to play together (to a certain extent !). It seems that Dako-on members have been impressed in a different way, other than the official concert of yesterday, seeing the reality of the war. But they have surely been encouraged by the people living with a strong mind despite difficult environments. At the same time, they have reconfirmed their thought remaining unchanged in their SEISA spirit since the establishment, i.e. Understand each other, Leave nobody out, and Make friends.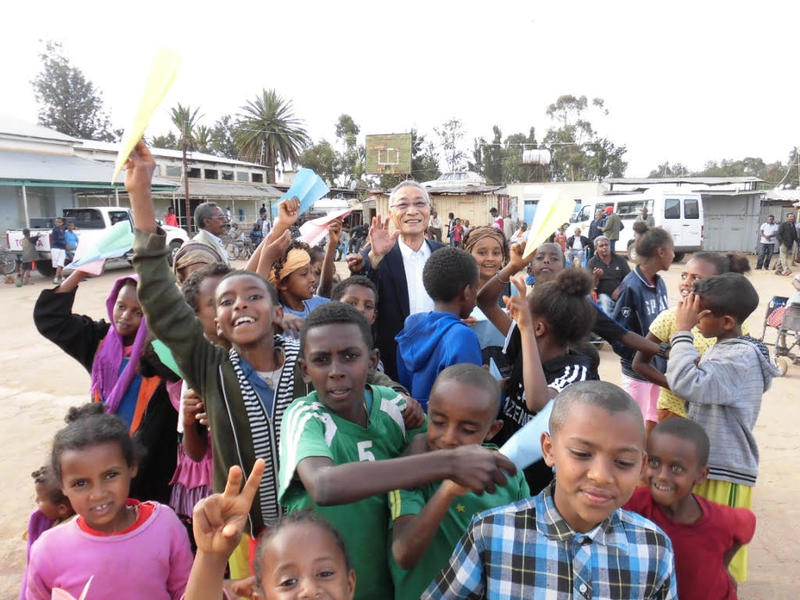 Support in the Tokyo 2020 Paralympic Games
Mr. Miyazawa, Founder of FGC/SEISA Group, has had a meeting with the board members of the Eritrean National Olympic Committee (ENOC) and the Eritrean National Paralympic Committee (ENPC) on the morning of Sunday, May 21. Various issues have been discussed. Then, it has been confirmed that Eritrea will participate in the Tokyo 2020 Games with a strong team, more powerful than before, and that both parties, ENOC/ENPC and FGC/SEISA, will further strengthen the cooperation. In this conjunction, special appreciation has been addressed for the unrelenting supports made by FGC/SEISA Group for many years. Especially, the Tokyo 2020 Games will be Eritreas very first participation in Paralympic Games; it will be a turning point in the history of Para-sports of Eritrea. So Zorro has confirmed his further supports, even stronger supports, and in this connection, he has made a donation to ENPC. Following this, he stated his assistance would aim not only at the success at the Tokyo 2020 Games but also at giving a dream(s) to Eritrean children/youth regardless of having impairments or not.
ENOC Board on left side, ENPC Board an right side
Donated to ENPC Board
Japanese drum performances in the open air
Dako-ons 2nd concert has started at 7:15 on the evening of Sunday, May 21. All the members have been on the stage tentatively built on the pedestrianized main street of Asmara. The historical town has just started being veiled in the dusk. The message of the 26th Anniversary of Liberation has become visible clearly in the illumination decorating the street. People have enjoyed walking in the quiet comfortable evening.
Suddenly Japanese drums have sounded through the street. Surprised at unfamiliar big sounds, people have stopped and have getting together around the stage. In a few minutes, Dako-on has had hundreds of audiences. Like the 1st concert, all of them have enjoyed the drum performances and the Japanese culture for one and a half hours. It has been another evening Asmara and Eritrea have felt FGC/SEISAs activities closer through the Japanese traditional performances.
Since 1993, Zorro has developed friendship with Eritrea through various supporting activities.
Below you will see the example;
1993 - :
The country was still in utter confusion after the liberalization war of more than 30 years.
Zorro came to Asmara as the first Japanese after the independence, and conducted radio operations with the official call sign, E31A, together with an international team.
What he saw there was a completely exhausted poor country. But people were motivated and encouraged to build up a new society for themselves.
Highly impressed, he started a vocational training program, so that people, especially young people, could become independent economically, too.
Very unfortunately, boarder conflicts with neighboring countries happened again, and consequently his activities were affected.
But his heart remained given to the country and people there, then the time for revitalization came.
2014 - :
In 2013, the 2020 Olympic/Paralympic Games were decided to take place in Tokyo.
In this conjunction, the Japanese Government tried to encourage more countries and more athletes to participate.
Requested by governmental officials, Zorro resolved to support Eritrea, remembering that his previous activities had not gone through contrary to his will.
In September 2014, he visited Asmara again after a long while to sign a MoU Eritrea-Japan Sports Collaboration with the Eritrian National Olympic Committee (ENOC), accompanied by the State Minister for Foreign Affairs, Mr. Kiuchi.
Since then, he has vigorously implemented various activities as shown below:
Zorro welcomed by President.
Zorro signs MoU Eritrea-Japan Sports Collaboration with Eritrean National Olympic Committee in the presence of Japans State Minister.
Zorro encourages wheel-chair basket team.
Zorro with boys/girls playing football.
Zorro arranges build-up of partnership between Eritrean National Athletics Federation and Japanese counterparts.
Zorro offers pre-games training camp at his facilities, supported by Kanagawa Prefectural Government and other municipal governments.
Zorro invites young athletes to a competition in Japan.
Ghirmay, a young Eritrean marathon runner wins at IAAF World Championships 2015.
Two Eritrean boys start learning at Zorros high school as of January 2017.
Zorro receives a token of gratitude from the Commissioner for Culture and Sports of the Eritrean Government.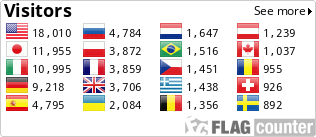 ---

DISCLAIMER:





The information shown here comes from www.qrz.com. If you are this callsign owner and want to update or remove this information, please do it directly at www.qrz.com.